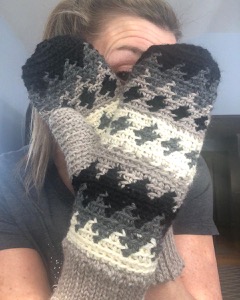 Cheryl Ziegler, an instructor at Apart | Together in Motion (www.ATinMotion.com) and owner of Inspired by Ida Crochet (@Inspired_by_Ida_Crochet) has made 3 pairs of the much asked about "Bernie Mittens."
However, instead of selling them, she decided to raffle the pairs off and donate all proceeds to Share My Meals. If you would like to be entered to win one of these awesome pairs of mittens simply Venmo, Zelle or PayPal $5 to Cheryl.
Venmo @Cheryl-Masessa-Ziegler, Zelle 609-240-4904, PayPal [email protected]. The raffle will be open for one week and she will pull the winners on Sunday, February 14th at the end of her 10:30 kickboxing class.
Class attendance/participation is NOT required to win. Winners not present will be notified on Sunday 2/14 as well.