Princeton, Tuesday, January 12, 2020 — The Princeton, NJ-based non-profit Share My Meals Inc. is announcing two new members to its board of trustees, Karen Lemon and Diana Pecina. Share My Meals is the only organization in the Princeton region dedicated to alleviating hunger by reducing food waste. 
"We are delighted to welcome Karen and Diana to our board," said Share My Meals President Isabelle Lambotte. "Both bring to our team added skills and talent to accelerate the growth of our organization in order to help feed more families."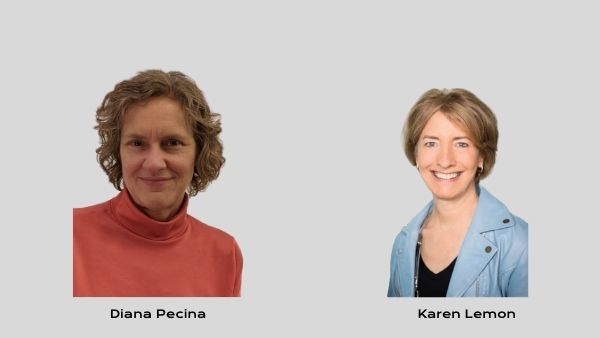 Throughout her career, Karen S. Lemon held leadership positions in HR/training, customer service, operations, and sales. She retired from AT&T in 2020 to pursue her passions. Diversity, equity, and Inclusion is one of Karen's passions. Until 2020 she served on the Board for the Tri- State Diversity Council and was a member of Catalyst's Board of Advisors. She is currently on the board for Junior Achievement of NJ. Before joining the Board of Share My Meals, Karen has volunteered for the organization delivering meals to families in Princeton.
"I am very aware of the need to address food insecurity and I have been impressed with Share My Meals outreach and impact during the pandemic," said Karen Lemon.  She added, "I look forward to expanding the existing work of delivering meals to families in need in our community. This will involve growing our volunteers and continuing to identify our neighbors who are in need. In addition to addressing food insecurity, reducing food waste is also part of the SMM mission. As businesses and universities return, I look forward to working with them to help us support this mission."
Karen holds a Bachelor of Arts degree in Mathematics Education from the University of Cincinnati and a Master of Business Administration from Indiana Wesleyan University. Originally from Cincinnati, Ohio, she currently resides with her family in Princeton, New Jersey.
"Share My Meals program speaks to both my head and heart," said Diana Pecina. "It is wrong that more than 40% of food in our country goes to waste while at the same time, many families go hungry. We can do better, and the Share My Meals Waste Watcher program is a great place to start."
Diana Pecina has been volunteering for Share My Meals long before being elected to the board. She brings more than 30 years of marketing, non-profit experience, and business development experience to Share My Meals. An Illinois native, she holds a B.A. in communications from the University of Illinois and an M.B.A. from Columbia University. She began her career with Johnson & Johnson, and made the transition to the nonprofit world in  the late 1990s when she was drawn to the work of Habitat for Humanity. In 2005 she joined the staff of Raritan Valley Habitat as the affiliate's first Development Director, working in partnership with corporations, faith-based communities, and private donors to expand community outreach and double annual revenues. During her tenure, she was privileged to assist 20 hard-working families to build and purchase their own safe, affordable homes. More recently, Diana has turned her attention to the world of education, working on business development, partnerships, and strategic planning for Mosaica Education and Bedtime Math Foundation.
The Waste Watcher Program is a sustainable meals recovery process, approved by the local health department, that distributes surplus meals from the cafeterias of local corporations, schools, universities, and restaurants to food-insecure members of the community.
During the pandemic, Share My Meals has adapted its operations to launch the Share My Meals Covid-19 Program. By purchasing meals from local restaurants at the cost of goods, Share My Meals has been able to help the food insecure community while allowing these restaurants to stay active and to pay part of their staff members.
Thanks to the amazing support of three, and recently four partner restaurants, our team of volunteers, and generous donors, we have been able to deliver 39,000 healthy meals directly to the home of the 100 families enrolled in our program in 2020.
People interested in making a difference can join Share My Meals by filling the form at http://sharemymeals.org/volunteering-with-us/
About Share My Meals
Share My Meals is a 501(C)3 organization incorporated in NJ, serving the food insecure people of the Princeton community area regardless of their ethnicity, gender, gender's identity, age, or faith.
The organization is working to alleviate hunger and food waste through the distribution of reclaimed meals from corporate cafeterias, schools, universities, and restaurants to people experiencing food insecurity in the Princeton region. 
Founded in 2020, Share My Meals is run by volunteers committed to rebalancing the food equation: Less Food Waste = Less Hunger.
For more information visit: www.sharemymeals.org.
Press Contact: 
[email protected] or 609 933 4363Facebook:  https://www.facebook.com/sharemymeals